South Tyrol in the Isarco Valley

Wonderfully carefree holidays with kids
Get out of the city and breathe some fresh mountain air! The best time of the year has come for your children, a break from everyday life that they have been looking forward to for so long. And you will certainly not be disappointed during a children's holiday in the mountains of South Tyrol! Our farm near S. Andrea on Mount Plose is the perfect destination for a carefree farm holiday with children in South Tyrol. We promise: Right after your arrival at the Linderhof, you will wish yourself back to your childhood, that's how hilarious, adventurous, and varied your children's holidays in South Tyrol will be. For your ideal kids' holidays on our farm, we leave nothing to chance – from many years of experience with big and especially small guests, we have developed a good sense for the wishes and needs of children. At the same time, we offer child-friendly entertainment, instructive experiences (without finger-wagging) on our large farm in Valle Isarco, the welcome opportunity for your offspring to play and romp freely!
Our baby farm is ideal for kids of any age.
Our farm animals are

the highlight of every vacation with kids
What's that happy clucking? Who is hopping across the meadow over there? And what does curious bleating mean, the lively Iii-aaahhh? No question – our lovable farm animals attract children like magic. Your child will surely fall in love with our donkeys, ponies, rabbits, sheep, and chickens. Maybe you can't keep a pet in your home for a variety of reasons? During your holidays with children in South Tyrol, however, two- and four-legged friends are simply part of a real farm holiday. Your kids will learn how to treat other creatures, especially smaller ones, with respect, how they feel, how and what they eat and how they react to a child's outstretched hand. In a playful way, your children learn to respect nature and how to take on a little responsibility even as a kid – at the latest when our child-loving donkeys need to be fed.
Farm holidays for children

are full of adventures in the Isarco Valley
Make yourself comfortable on our large and sunny lawn, soak up the sun in the Isarco Valley and enjoy the wonderful view of the mountains. In our winter garden, too, you can – even on rainy days – relax, read or use the free Wi-Fi  during your holidays with children. Meanwhile, your children can romp and play freely on our premises and perform exciting heroic deeds on the 300 m2 large adventure playground as well as in our baby park, prove their skills or re-enact their favourite scenes from "Harry Potter" or "The Lord of the Rings". One major highlight is our pirate ship, because it keeps kids busy on board, sails are hoisted, and legendary treasures are discovered.
Farm holidays for children

There is something for every taste
In case of bad weather, there's always our well-equipped playroom. And as soon as the sun shines again, more games such as darts, table football, trampoline, table tennis, swings, a sandpit, baby park or soccer await you. Your farm holiday with children can be anything you may imagine – but it will certainly never be boring! The best part for parents during children's holidays in South Tyrol is that they sometimes may go your own way, have time for themselves, find freedom and know that their children are having plenty of fun and a wonderful time even without constant parental intervention. Because we believe: The perfect farm holidays for children are those where truly every family member is happy. And when another wonderful day in South Tyrol comes to an end, get together as a family in our BBQ house, enjoy delicious regional products and celebrate life!
Carefree

holidays with a baby in South Tyrol
Are you enjoying your young family happiness and planning a holiday with a baby in South Tyrol? Why not? A holiday with a small child should not be a problem if the circumstances are right, your host is well prepared, and everything has been thought of. Just like here on the baby farm in S. Andrea near Bressanone. It is our aim to do everything possible so that young families have the opportunity to spend a carefree family holiday with a small child in one of the most beautiful regions in South Tyrol. Because let's be honest: A baby is not only an immense gift for the parents, but it also takes a lot of strength in everyday life. Our farm Linderhof is available to you for an extended baby holiday so that you can all relax as much as possible and recharge your batteries.
Baby park

for the youngest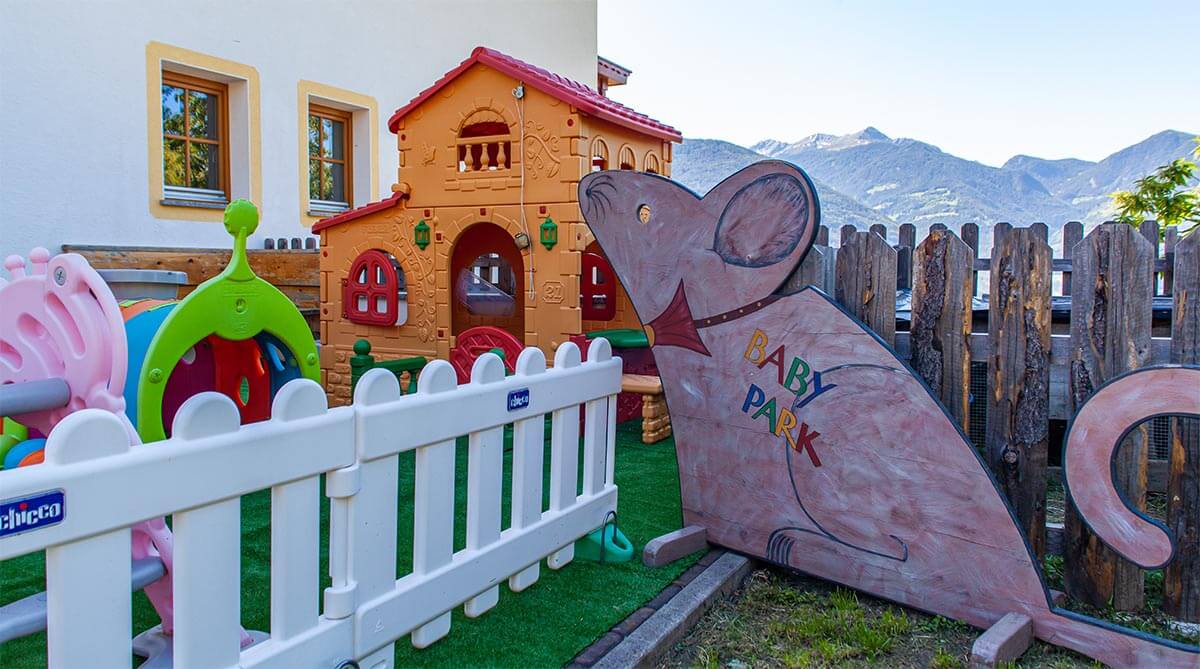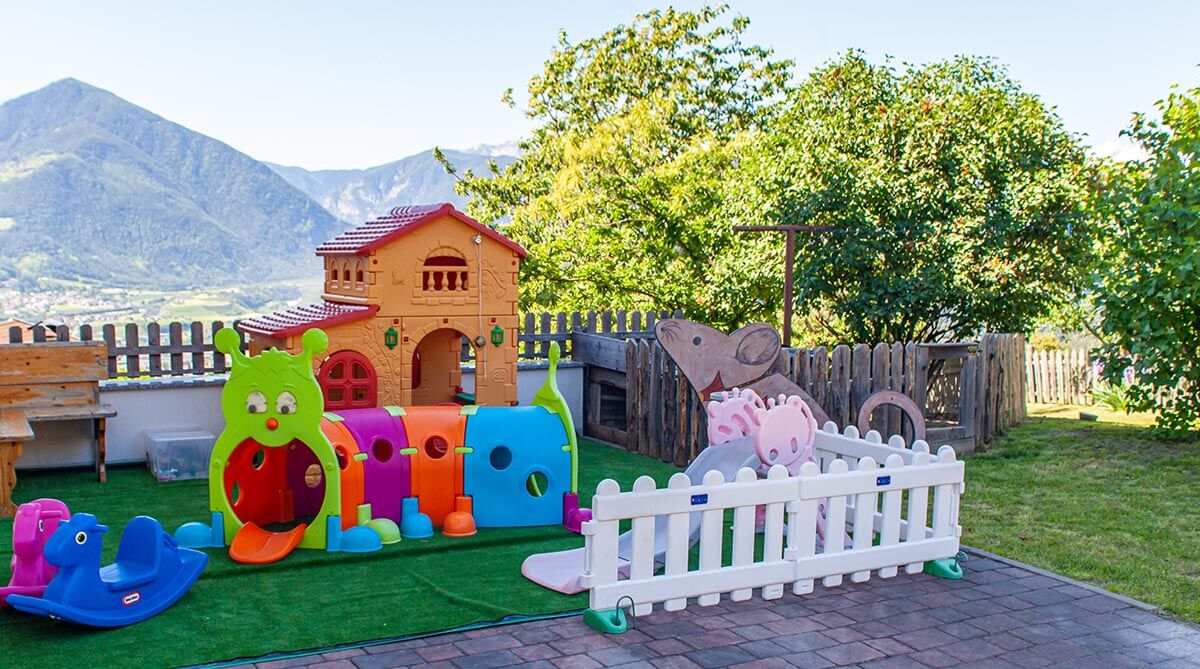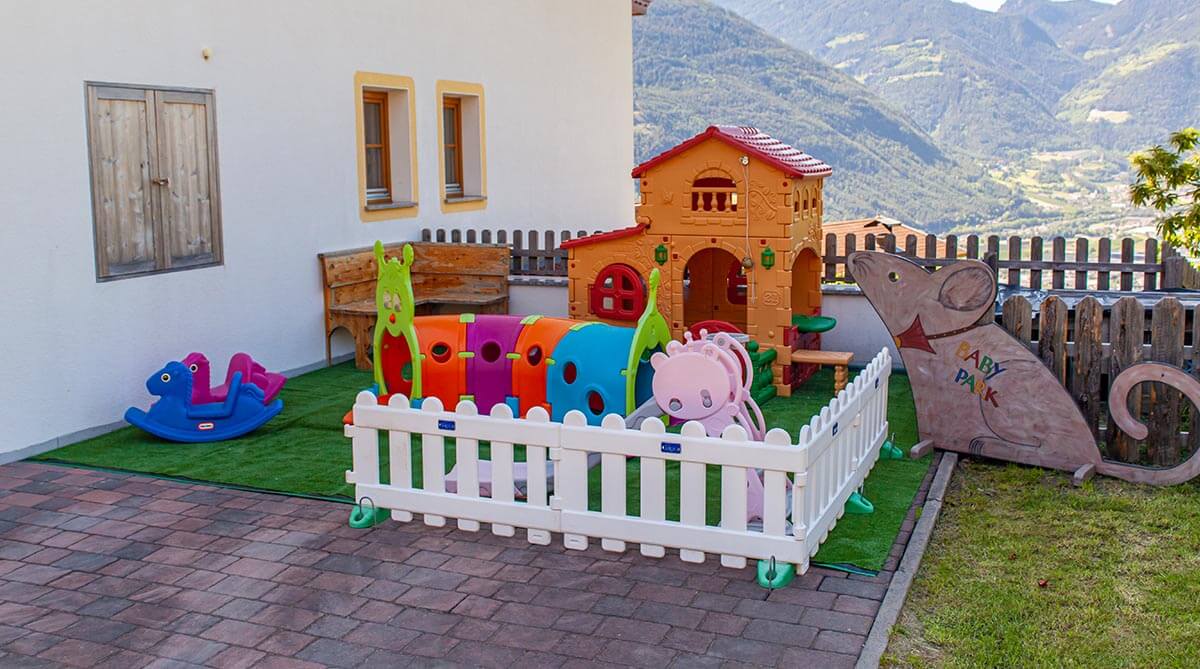 Your well-equipped baby farm in the Isarco Valley
Of course, a holiday with a small child is always a challenge. We at the farm for children Linderhof would therefore like to make it as easy as possible for you so that you can enjoy your well-deserved baby holiday in South Tyrol  to the fullest. Of course, a holiday with a small child needs to be planned very carefully. Even the trivial things must not be forgotten when starting the journey, so as not to encounter difficulties later. However, do not worry! We have a complete set of baby equipment right here on site so you can pack your bags in peace without having to take half the household with you. Because that's what we are here for. In the outside area, our youngest guests may discover and enjoy our baby park with playhouse, caterpillar tunnel, baby slide and rocking horses. And believe us – we are very familiar with all the obligations of new parents and will support you to the best of our ability on our baby farm.
Baby on board? We've thought of everything!
A baby doesn't only need love and every other form of nurturing—it also needs an extensive list of baby furniture and items that you won't find in any hotel. On the other hand, on our well-equipped baby farm, we are happy to provide you with a changing table, a highchair, a baby cot, and a baby bathtub (on request). It's a good feeling, at least on holiday, not having to do everything yourself and being able to take advantage of the facilities on site. We also provide such important utensils as bottle warmers, kettle, and various bibs. This reduces your luggage and creates space for other items you need.
More time during your holidays with a baby in South Tyrol
You probably know the feeling: you have made big plans, but then you spend so much time at the changing table, shopping, cleaning, and tidying up that even a vacation day off flies by. It will be different on your baby holiday in South Tyrol! The baby park, washing machine, the dishwasher, and a bread delivery service, which are of course available to parents with small children, allow you additional relaxing time . And if you have a special request – please let us know. Together we will find a solution.
Wide variety on your holiday with a toddler
It's not true that children will limit you during your farm holidays! You may enjoy many fantastic tours during your vacation with small children in South Tyrol . An absolute highlight for the whole family is the WoodyWalk on Mount Plose, the local mountain of Bressanone. From S. Andrea you may take the Plose Cable Car to your starting point for a 4 km long themed trail with entertaining play stations that focus on wood. This popular family circular trail is suitable for prams, easy to walk (only 100 meters in altitude) and provides all kinds of fun. As part of the Dolomites Panorama Trail, it offers you a magnificent panoramic view of the Isarco Valley and the Dolomites, which also children will enjoy. A hearty snack awaits you on the lodge Rossalm. A fantastic vista of the Bolzano vineyards awaits you from the Renon Cable Car (baby buggies fit in the cabins).
The ideal ambience for your holidays with a baby in South Tyrol
We've genuinely thought of everything: Our children's rooms are furnished in a natural way with local spruce wood – they can be fully blacked out and all sockets are childproof. Would you like to take a few steps to help your baby fall asleep better? In the immediate vicinity of our baby farm, you may easily take a little walk with the pram and even relax while doing so. We would be happy to advise you on where you can go for more leisurely walks and hikes with a stroller.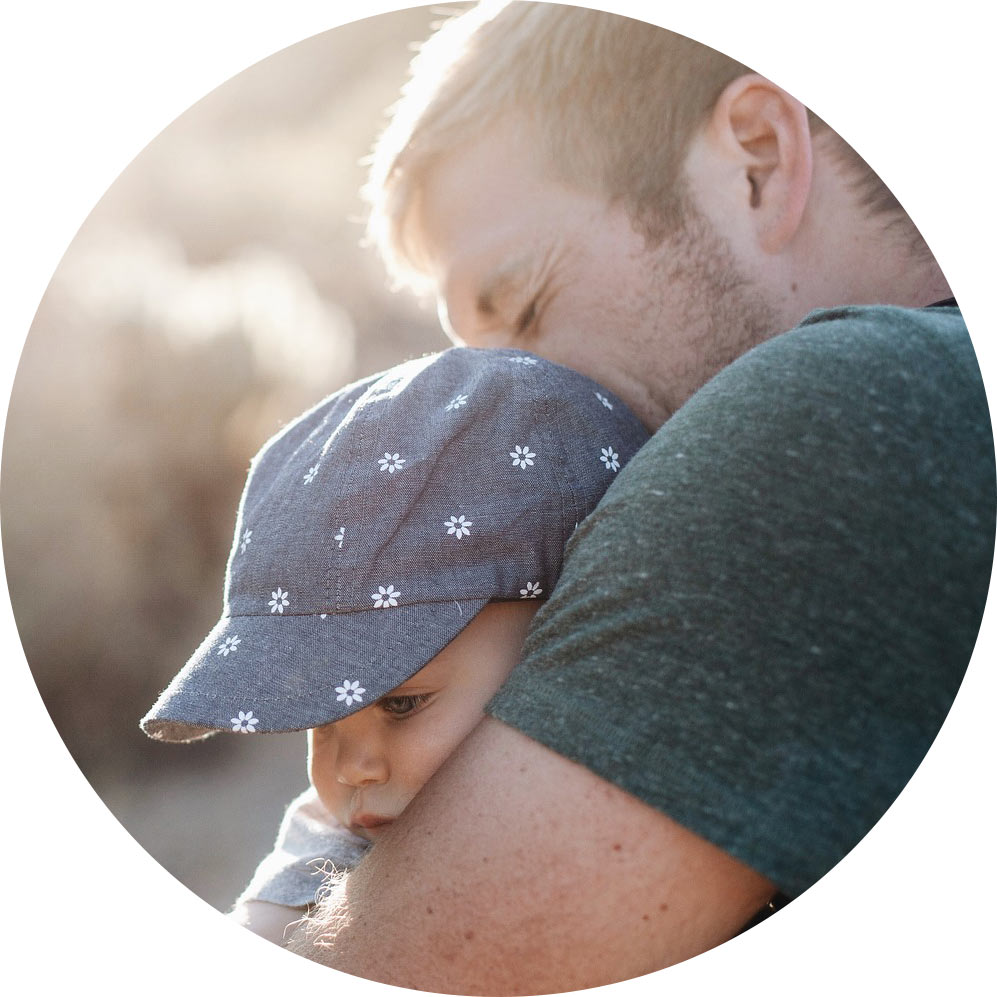 It's all about your baby

… upon request, we will be happy to provide baby equipment free of charge:
Highchair
Fall protection
Bib
Children's crockery/cutlery
Bottle heater
Baby tub
Step stool for the bathroom
Kettle
Baby cot with children's bed linen
Nightlight
Changing table with pad
WC seat for kids
Washcloth
Nappy bucket
Carrying backpack
Table sets
Washing machine
Baby tub & baby towel